Few people use their gardens to their full extent. Your garden is part of your home, and with careful and thoughtful design can really become a room outside

A professional garden design service need not break the bank. My designs will reflect your budget, whether you want to convert your back yard into an outdoor entertainment area or turn your garden into a tropical paradise.
How you want your garden to look is a very personal thing, which is why I am happy to offer you a free consultation. The more I know about you and your personal taste, the easier it is to produce the right design for you.
Planting schemes
Planting schemes are created to suit your personal taste and the style of the garden. This may mean low maintenance plants that don't require too much attention or flowers that suit a preferred colour scheme or attract particular types of wildlife into the garden. However, it is also important that planting takes "succession" into consideration so that there is interest throughout the year.
A planting scheme will be produced as part of the garden design process but can also be created as a stand-alone service if you just want an old border rejuvenating or are planning a new area of planting.
The design process
The design process begins with an initial consultation at your property. During this session we will discuss your likes and dislikes and what you want to get from your new garden.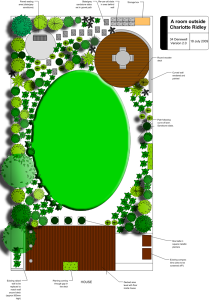 The priority for a family with young children may be safety and a large lawn or play area but whether you want an urban party space with low maintenance planting or a pretty cottage garden, the aim of the consultation is to make sure that the design is tailored to you.
If you decide to commission a design from A Room Outside the next step is to do a survey of your garden. This will enable me to produce a scale drawing and accurately calculate quantities for hard landscaping and the correct number of plants that will be needed. The survey is carried out straight after the consultation meeting.
The design is produced on CAD software and presented in full colour along with a plant list and plan to enable you to carry out the work yourself if that is your preferred option. Alternatively, I can provide prices to carry out any aspect of the work required whether it be the whole build or just the planting scheme.
What do you want from your garden?
These are some things you might like to think about before you take on a designer:
I want to encourage wildlife into my garden
I don't have much time to maintain a garden
I have young children so the plants must be safe
I find it difficult to kneel or bend down to ground level
I work away often so need plants that can be neglected
I enjoy naked sunbathing so need privacy!
Email me or call now on 0780 8055508 to arrange for a free consultation, and feel free to take a look at my portfolio for examples of my work.